VIDEO: Womack Urges Budget Reforms, Addressing Unsustainable Debt
Washington, November 3, 2021
Washington, DC—November 3, 2021....Congressman Steve Womack (AR-3) today delivered remarks calling for budget and appropriations reforms and ordering Congress to address our nation's unsustainable fiscal trajectory. During his speech, he voiced his support for the Fiscal State of the Nation Resolution, legislation which would require the Comptroller General to present the Financial Report of the United States to a joint hearing of the House and Senate Budget Committees. The measure was one of the previous reforms Congressman Womack presented as Co-Chair of the Joint Select Committee on Budget and Appropriations Process Reform.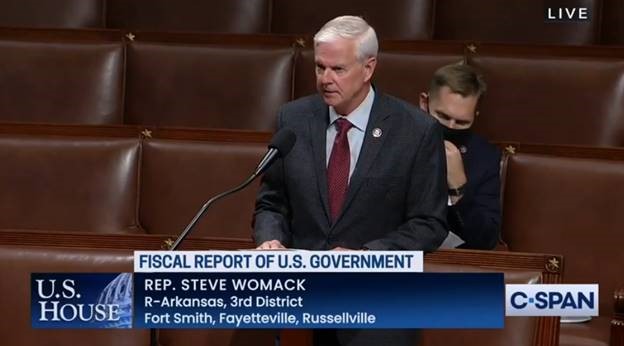 Watch Congressman Womack's floor speech here.
Womack has consistently advocated for solutions to fix the broken budget and appropriations process, which has failed the American people for too long. As Co-Chair of the Joint Select Committee on Budget and Appropriations Process Reform, he introduced bipartisan, bicameral legislation to modernize and streamline current processes. Some of the reforms he supports include moving to a biennial budget, ensuring realistic deadlines for Congress to complete its budget and appropriations work, and requiring a joint Budget Committee hearing on the Fiscal State of the Nation.
Video here or read a transcript of remarks below:
"Thank you, Madam Speaker. And my thanks to my colleague from Texas for giving me the opportunity to speak on this very important subject.
"Madam Speaker, I rise in support of this resolution. Though, I have to admit, that it's easy to be somewhat pessimistic about its potential effectiveness. But I'm willing to try anything—anything—that might work in elevating the nation's debt situation in the minds of the people we all represent.
"The people I represent in Arkansas don't have a choice but to balance their checkbooks. And if they can't, they're limited on how much they can borrow, and for what.
"Sadly, the federal government doesn't play by the same rules. Madam Speaker, we're $29 trillion in debt.
"We have budget deficits as far as the eyes can see.
"We are mortgaging the future of our kids and our grandkids. And it's painfully obvious to me that the governing majority doesn't really care much about deficits and debt—but Third District Arkansans do.
"I had the honor of co-chairing the Joint Select Committee in 2018 that tried to address the budget and appropriations process that has tripped up the Congress every year since I've been here. And to think that we're only funded through the third day of December with no assurance of a full year's appropriations by then.
"Something has to be done. A fiscal state of the union is one of the recommendations that came from our Joint Select Committee, and I'll remind everyone we needed three more—count them—three more Democrat votes to move those recommendations. And four, Madam Speaker, four Democrats voted present.
"So, forgive me if I don't sound terribly optimistic that Congress will get its act together. But maybe—just maybe—something like this will force a rational discussion before we have what is coming: a sovereign debt crisis.
"So, I'm willing to try, and I encourage my colleagues to support it.
"And I yield back the balance of my time."
Congressman Steve Womack (AR-3) has represented Arkansas's Third Congressional District since 2011. He is a member of the House Appropriations Committee.
###