Womack Appears Before House Veterans' Affairs Committee, Questions Reform Implementation
Washington, October 27, 2021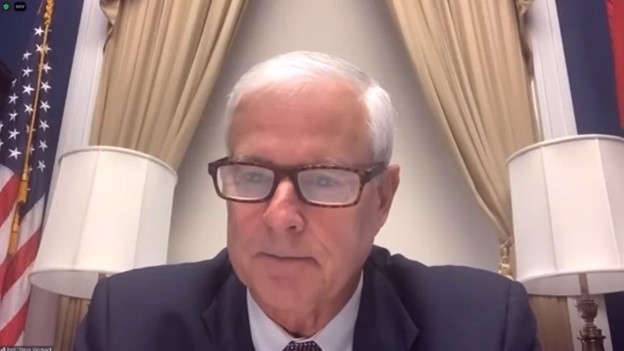 Watch Congressman Womack's remarks and questioning here.

Washington, DC—October 27, 2021….Congressman Steve Womack (AR-3) today appeared before the House Committee on Veterans' Affairs regarding previous oversight failures at the Fayetteville VA Medical Center. He shared information related to the egregious misconduct of a former pathologist and questioned VA leadership about implementing further reforms directly related to reinstatement processes.
Congressman Womack said, "Our veterans deserve the highest standard of care. Robust safeguards related to the credentialing process are needed to ensure the health of those who have served this nation are never at risk by medical professionals entrusted to their care. I appreciated hearing Ms. Renee Oshinski, Assistant Under Secretary for Health for Operations, recognize the issues and commit to taking my suggested reform measures seriously."
Womack has previously testified before the House Veterans Affairs' Committee on this situation, called for examinations of VA procedures, worked with VA leadership to reform the reinstatement process, and led a letter to ensure Mr. Levy would not qualify to receive any retirement benefits.
Testimony as prepared for delivery:
"Thank you, Chairwoman Brownley, Ranking Member Bergman, and members of the committee, for this opportunity to speak.
"For those of you unaware, there was an extremely dangerous situation at my hometown VA. Our chief of pathology—a medical doctor who took an oath to do no harm—reported to work intoxicated. He was suspended and then allowed to attend a three-month in-patient substance abuse treatment program.
"Following completion of this program, he returned to work at the Fayetteville VA and was returned to his supervisory position. He remained in that position for 17 months, until he was arrested for a DUI while under the influence of a drug called 2m-2b. This is a powerful drug that mimics the sensation of alcohol but cannot be detected by standard drug screenings.
"He has been directly linked to 3 veteran deaths, and a review found his misdiagnoses to be responsible for another 30 serious medical errors, 592 errors that could have risked the patient's health, and more than 3,000 total errors. This necessary review lasted a year and a half and looked at 33,902 cases dating back to 2005. It required a team of 53 pathologists and cost the taxpayers $2.1 million to complete. He is, thankfully, now in federal prison for his crimes.
"Ever since, I have been advocating for reforms to ensure this never happens again.
"Question: Ms. Oshinski, in your written testimony, you acknowledge changes needed to be made following the tragedy at the Veterans Health System of the Ozarks. I am encouraged by some of the changes you say the Veterans Health Administration (VHA) has implemented following the Inspector General's report. However, I believe there is one vital reform missing.
"In my opinion, one of the main causes of the tragedy at Fayetteville was that Mr. Levy was returned to his supervisory position. While you say the VHA has implemented a policy requiring facilities with two or fewer providers in any given specialty to have provider reviews performed at an alternate VA facility, I believe that would not be enough to ensure independent oversight in certain cases.
"For example, what if a formerly impaired supervisor is returned to duty in charge of a section with three providers, including him or herself. That supervisor would have immense power to influence or change the reviews done by their subordinates.
"I would like the VHA to commit to prohibiting health centers from returning a provider found to be intoxicated/impaired on duty to a supervisory position. Can you commit to that?"
[VIDEO]
Congressman Steve Womack (AR-3) has represented Arkansas's Third Congressional District since 2011. He is a member of the House Appropriations Committee.
###