Womack Meets with Singapore Ambassador, Discusses Fort Smith FMS Mission
Washington, DC – June 16, 2021….Congressman Steve Womack (AR-3) today met with Singapore Ambassador Ashok Mirpuri to recognize the core connections between the Natural State and Singapore and discuss the Foreign Military Sales (FMS) mission that Fort Smith has been chosen to support.
Congressman Womack
said, "The people of Singapore and Arkansas are cut from the same cloth. We are both rooted in the love of our countries. We are tireless workers. We invest in what is important, including defense. And we are steadfast in fostering a strong global community. This point was highlighted during our conversation on the significance of continuing the U.S. led rules-based international order in the Indo-Pacific region. The meeting allowed us the opportunity to reinforce our shared objectives and joint efforts to build brighter futures, from Fort Smith to Southeast Asia and beyond. I thank Ambassador Mirpuri for his time and look forward to welcoming him to Arkansas in the near future."
During the meeting, Womack and Ambassador Mirpuri talked about the recent announcement that Ebbing Air National Guard Base was selected as the home of future F-35 fighter planes and a Republic of Singapore F-16 squadron. The pilot training center is where military personnel from allied nations will learn and train on F-35s—the next generation of aircraft equipment. It is estimated that hundreds of U.S. military personnel, 180-plus members of the Singapore unit, and around 300 dependents will be part of the center. Besides the strong impact on our diplomatic and securities ties, it will have a huge economic effect on the region. Some reports have estimated up to a $1 billion impact. Additionally, training planes and pilots from Finland, Poland, Switzerland, and potentially other nations will be part of the FMS site in the future.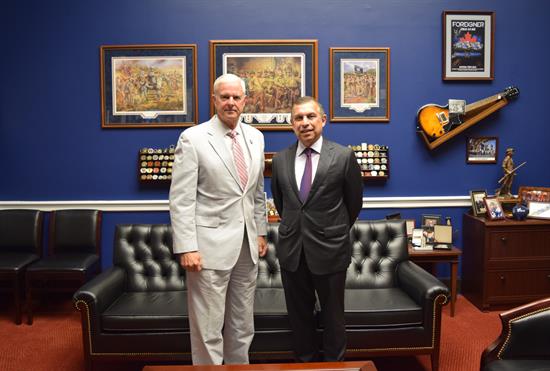 Congressman Steve Womack and Singapore Ambassador Ashok Mirpuri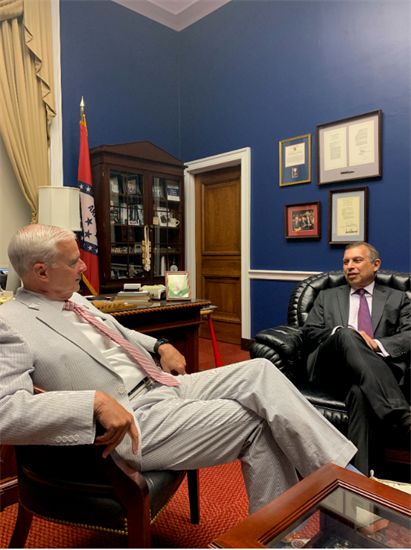 Congressman Womack and Singapore Ambassador Mirpuri discuss international defense efforts and the FMS mission
Congressman Steve Womack (AR-3) has represented Arkansas's Third Congressional District since 2011. He is a member of the House Appropriations Committee.

womack.house.gov

###